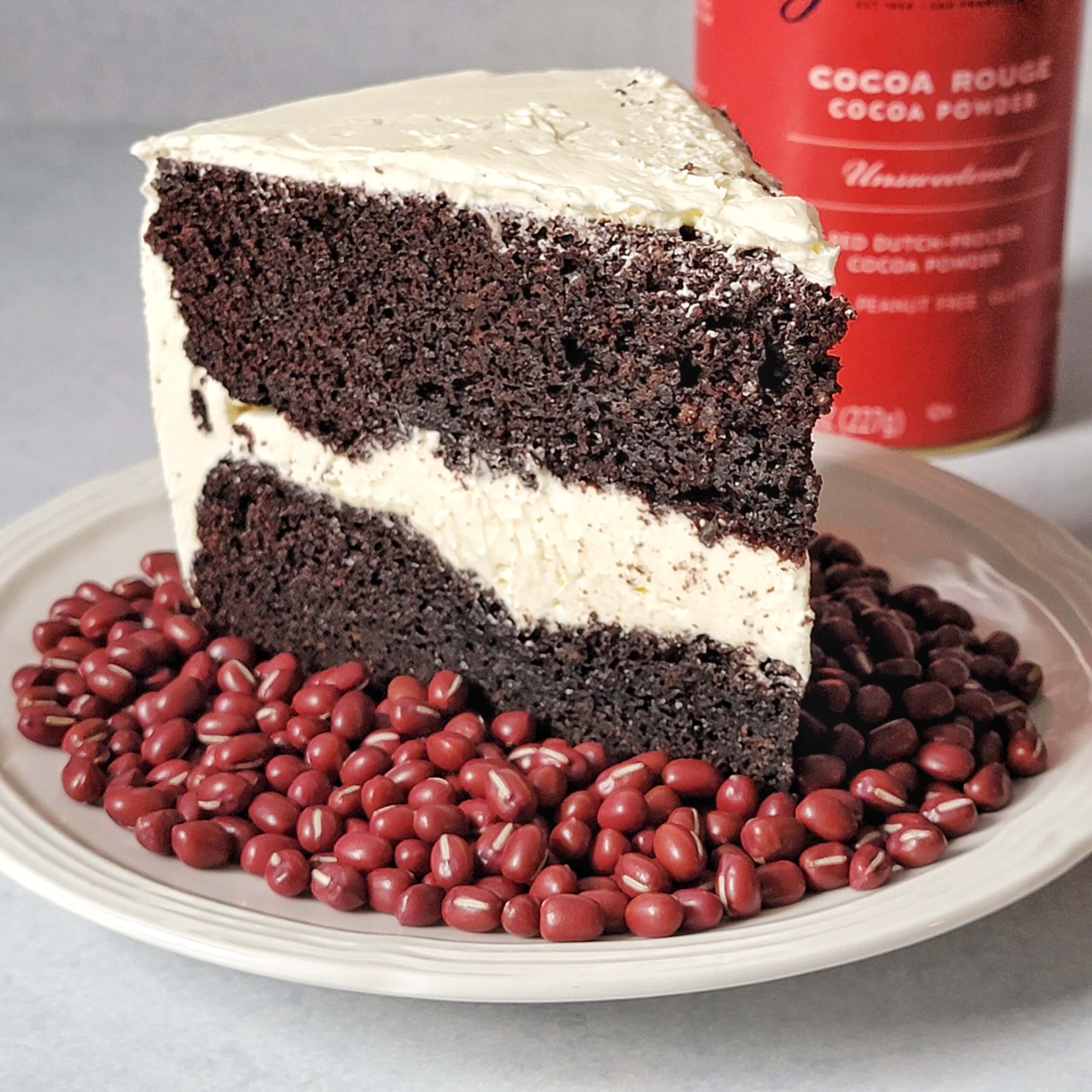 Apparently, it is a tradition to freeze part of your wedding cake after the big day and thaw it a year later to "enjoy" on your first anniversary. I did this with our wedding cake at the insistence of my parents, but I wasn't impressed with the implications.
While there is a personal metaphor/life lesson in this ritual—maybe something about how love changes over time no matter how hard you try, or that you can't keep your cake and eat it too, etc.—for me it focused too much on how time = degradation. Maybe I'm telling on myself if that was my takeaway, but when my cousin & best friend* was getting married last year, I wanted to put a twist on the tradition for them.
Because, as any readers of this blog should know by now, time can change things in beautiful and unexpected ways.
It was a very small wedding, and my wife and I made their wedding cake as a surprise. I made Swiss buttercream frosting, and my wife handled the actual cake: Stella Parks' (AKA Bravetart) Devil's Food Cake. It may not have been perfectly, professionally frosted, but it was the best damn wedding cake I have ever tasted. And I didn't want the experience of remembering this cake a year later to be one of disillusionment. And then, the thought struck me: starchy grain, egg protein, a little fat—these are some of the essential substances that can be transformed by the enzymatic power of koji.
And so, I set out to start my anniversary gift to them a year early: Anniversary Miso!
---
Day 0: 2021-11-13
I'm making the base of this miso with adzuki beans, AKA red beans, because it feels right to use with the Dutch process cocoa I plan to add, the traditional base of red velvet cake. Maybe none of that makes sense, but that was how my brain got there.
These are soaking overnight to cook tomorrow. I also just made a batch of fresh koji rice separately.
Day 1: 2021-11-14
After soaking, beans weigh about 600g. I'm steaming the beans in my pressure cooker: drained beans added to a steamer basket above a few cups of water, high pressure for 10* minutes with natural pressure release.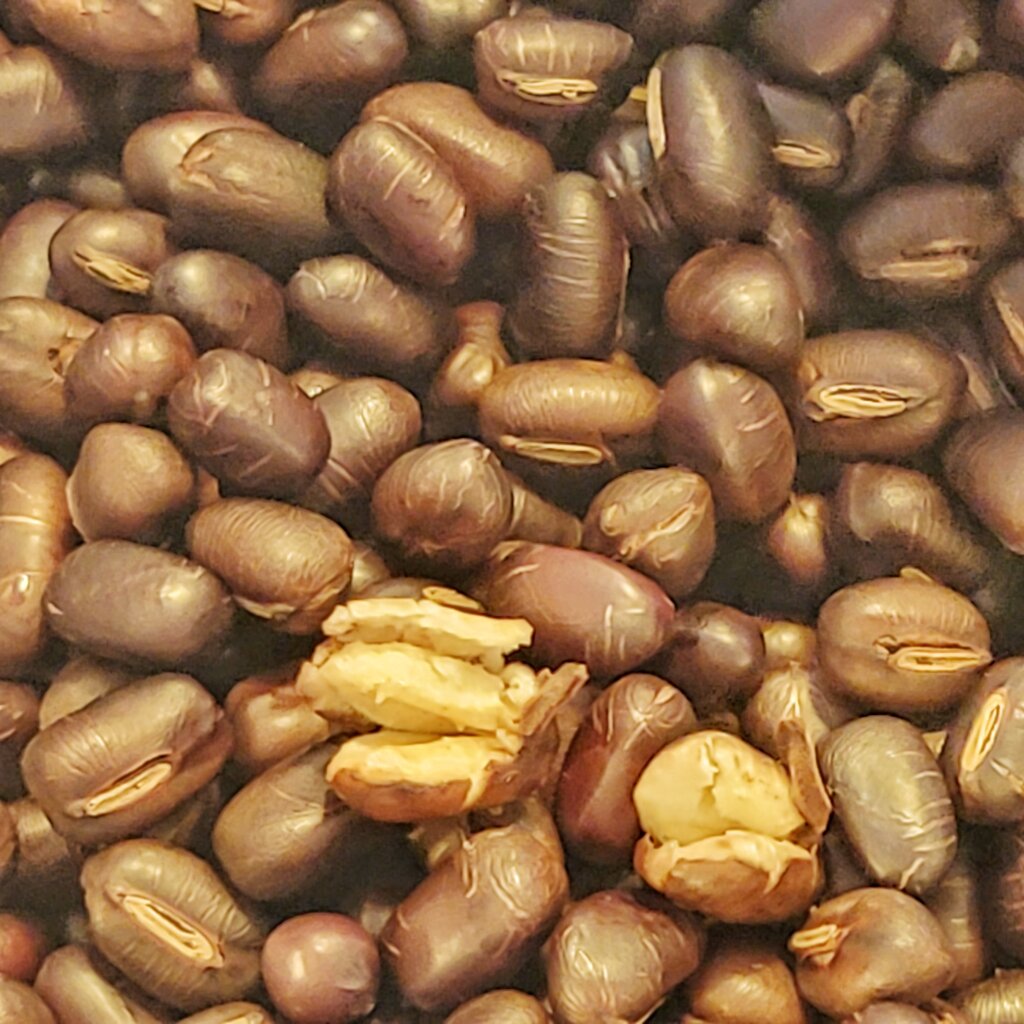 After grinding the beans I noticed the texture was a little dry so I made sure to reserve the cooking liquid.
I know, you've been wondering what happened to the cake—it's time! I scraped off the delicious Swiss buttercream frosting and tossed just the cake in with the mix. There's way too much sugar in the frosting, which would probably make the resulting miso particularly sour as it turns to alcohol and then vinegar.
615g adzuki beans, cooked and ground
230g chocolate cake
20g Dutch process cocoa powder
10g mature adzuki miso
400g koji rice
150g bean cooking liquid
142g salt (10% of above)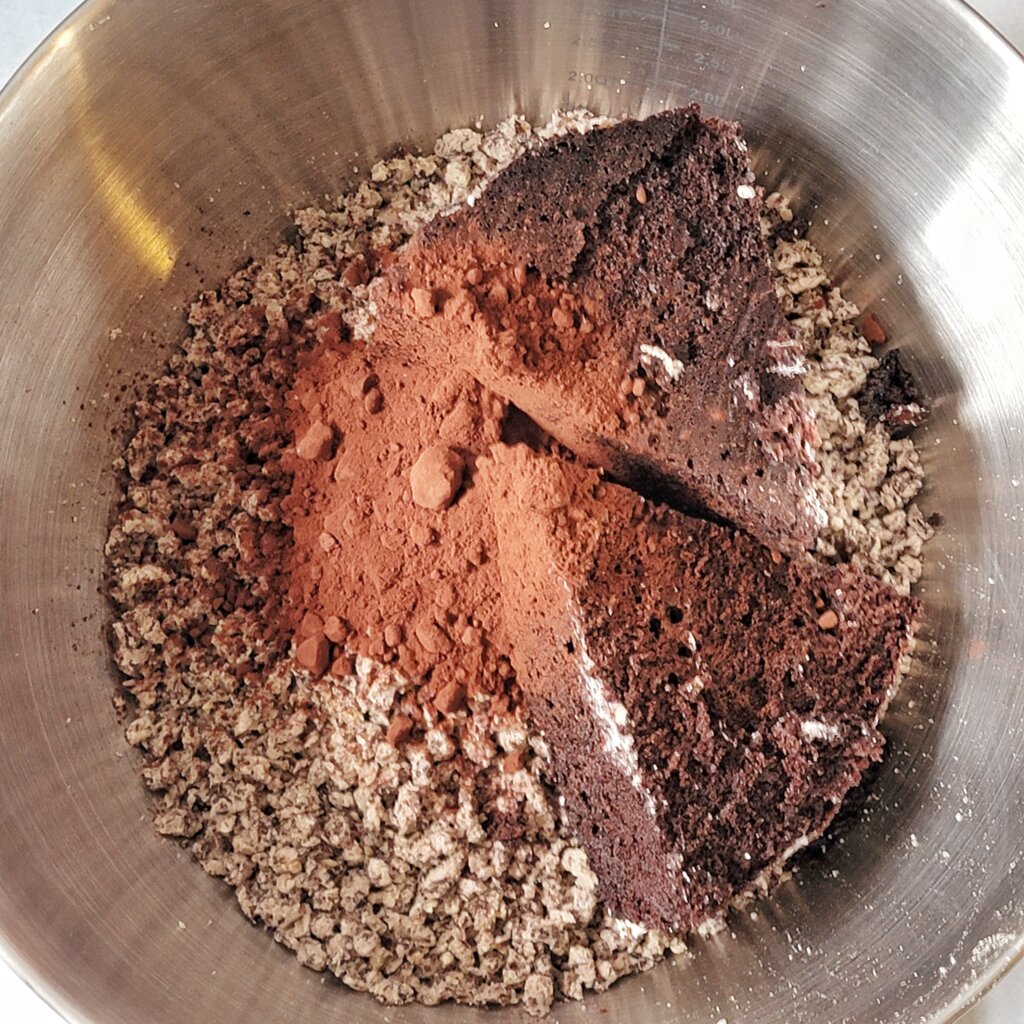 I adjusted the texture with some reserved cooking liquid until it came together into a ball, after which I performed the ritual of flinging each ball down into the half gallon jar* I'm using as a crock. I do love crocks, but it's nice to be able to see if you've got big air bubbles around the outside that need to be pressed out.
For the weight I used a ziptop bag of pickling salt on top of some cling film that I pressed down onto the surface which had been covered with a sprinkling of kosher salt. The total weight of the miso is about 1.5kg, but I was only able to fit about 500g of salt into the bag as a weight, though roughly half of the miso weight would have been preferable. Finally, I topped the jar with a coffee filter secured with a rubber band.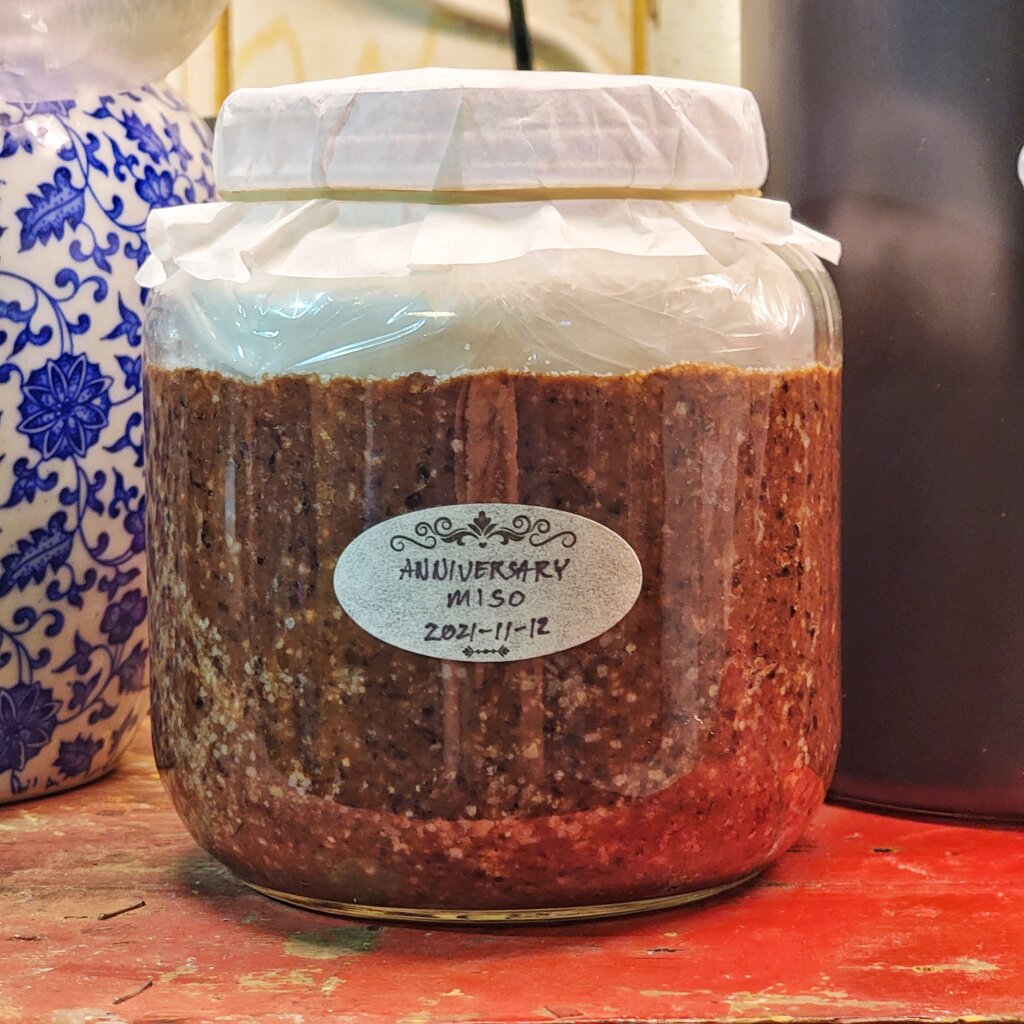 This will sit in my basement for 1 year until the wedding anniversary. I've never been this prepared with a gift in my life!
Day 364: 2022-11-11
Wow, this has been one of the most uneventful misos I've ever made. It sat quietly in my basement, undisturbed, for one year. No mold, but also no tamari either. If I had added additional liquid to make up for the dryness of the beans, perhaps I might have produced some tamari or potentially mold, but I'll take neither over both, honestly.
The appearance hardly changed much either, save for a slight darkening of about a half inch layer on the top, which I would expect, and a very slight (1mm) decrease in height which is only noticeable because of the marks left on the glass.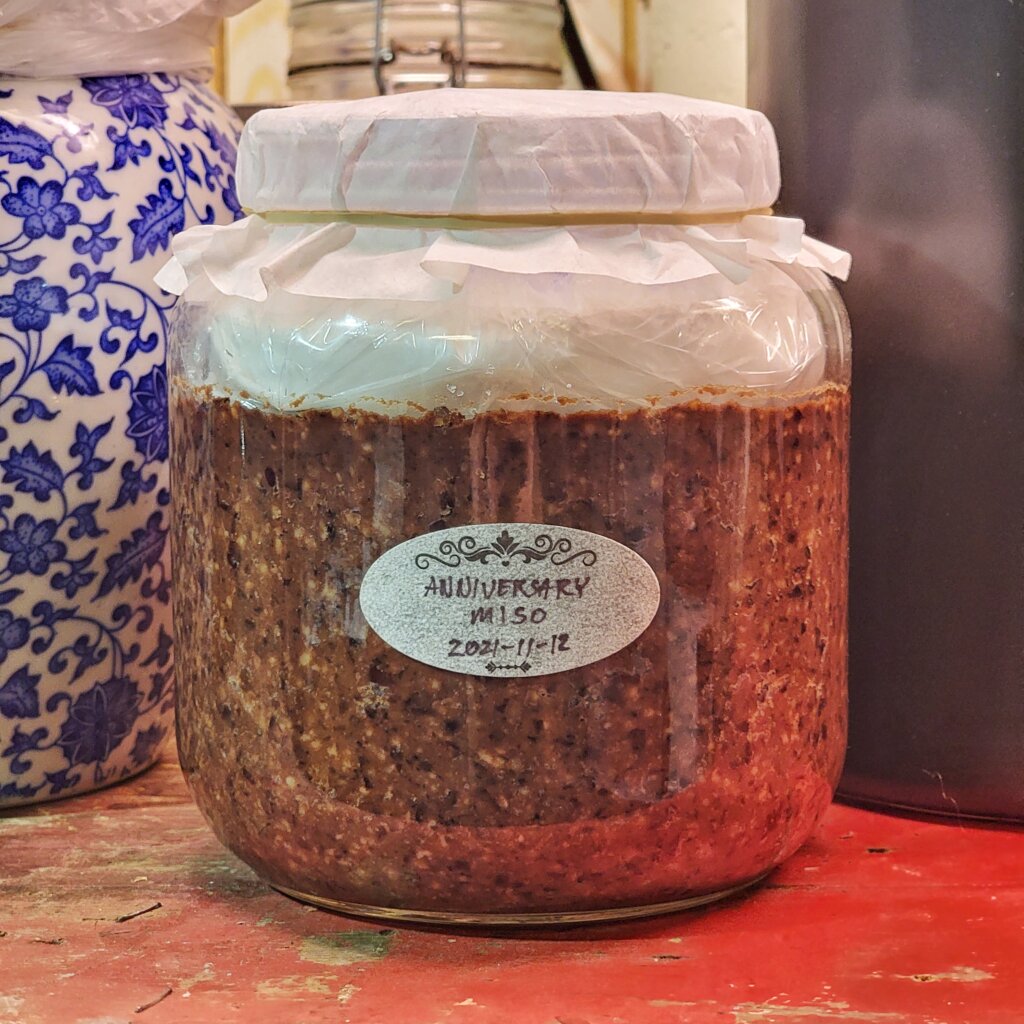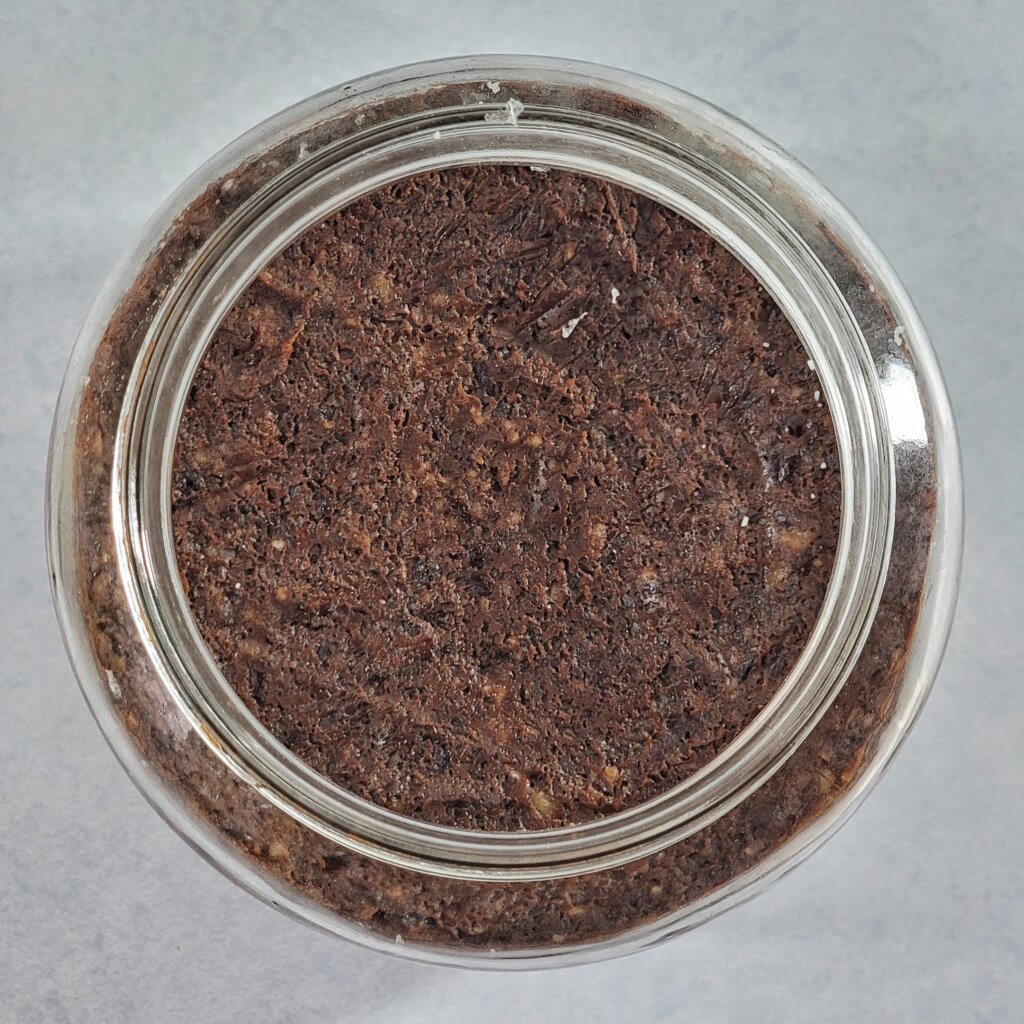 Tasting Notes
The texture is a little chunky, since I don't have the kind of equipment or time to grind to a smooth paste. I don't mind this, as it can be blended smooth in small quantities much more easily when it's about to be used in something.
The aroma, perhaps unsurprisingly, is still very reminiscent of chocolate cake! It also has notes of funk for sure, but I'd be worried if it didn't.
But the true test is taste, and it's definitely not your average red miso. There are two particularly pronounced flavors here: 1) an earthiness that likely comes from the cocoa, and 2) a tangy funk, probably from the excess sugar in the cake, one of the reasons why I added beans instead of doing cake-only. Altogether it is very reminiscent of salted dark chocolate, but also not too dissimilar to a red miso flavor.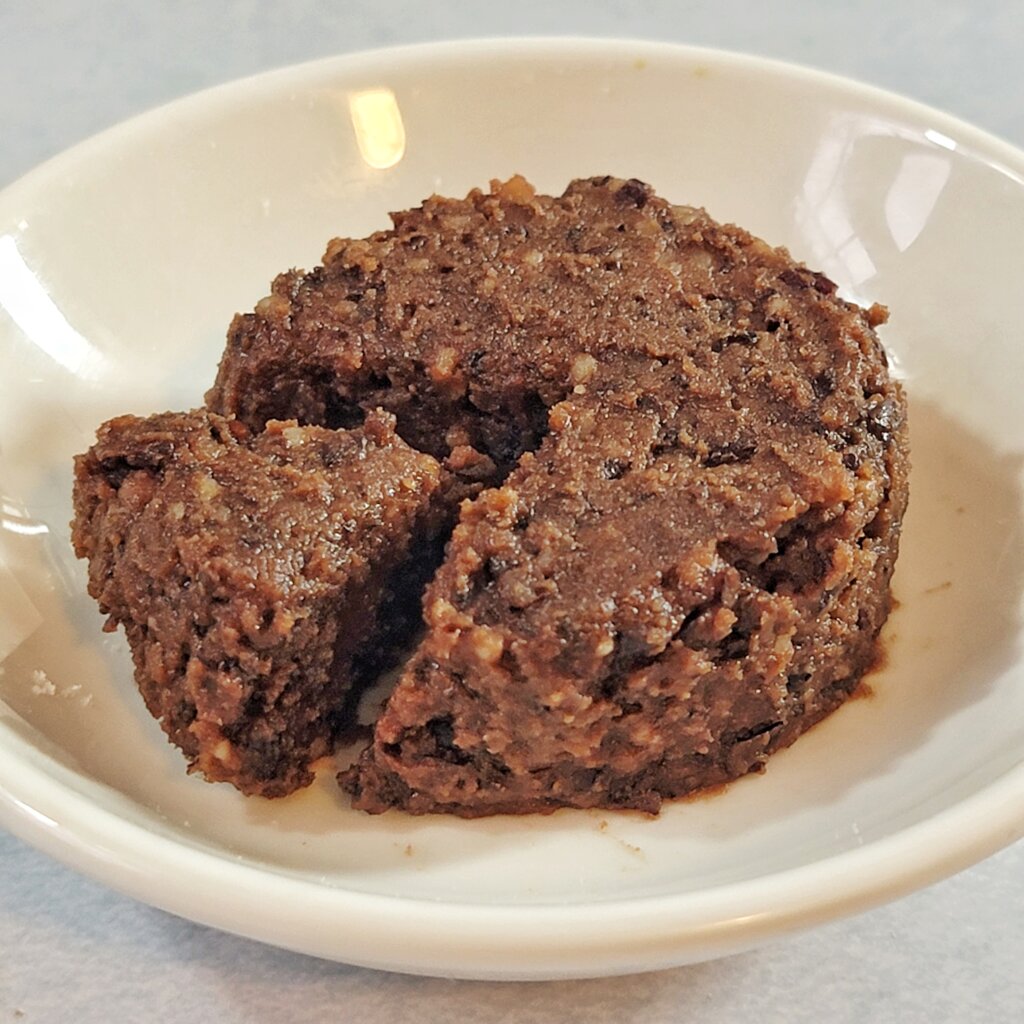 Gift Prep
To give as a gift (while also keeping a little for myself) I mixed up the contents as best as I could and packed it into smaller jars, topped with a sprinkling of salt and a piece of wax paper pressed onto the surface. I was able to fill 3 pint jars, 2 of which I gave to the lucky couple.
Happy Anniversary!